Elise Krohn is passionate about her relationship with plants.   As an herbalist and native foods specialist she empowers others in gathering and using wild foods and medicines.  Her 17 years of experience includes medicine making, clinical practice, developing tribal community gardens, creating curricula and teaching.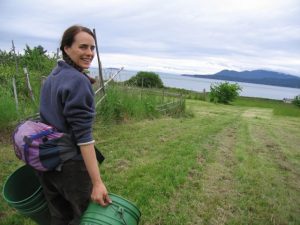 Elise is the author of Wild Rose and Western Red Cedar: the Gifts of the Northwest Plants and co-author of Feeding the People, Feeding the Spirit: Revitalizing Northwest Coastal Indian Food Culture.  She contributed content to an exhibit about native foods at the University of Washington's Burke Museum.
Building relationships between plants and people is at the heart of Elise's work.  She currently works as an educator and program coordinator for the Northwest Indian College Cooperative Extension's Traditional Plants and Foods Program and the  Traditional Foods and Medicines Program at the Northwest Indian Drug and Alcohol Treatment Center.  She is also the principal investigator for the Building Tribal Community Health Through Education Project, which will produce five curricula on native foods nutrition, tribal food sovereignty, native culinary arts, growing plants and herbal medicine.  These courses will be offered at the Northwest Indian College and through tribal education programs.
Olympia, Washington is Elise's home, where she enjoys integrating wild foods and medicines into family life with her daughter and husband.  She frequently travels throughout Western Washington to harvest and teach.
Education
Masters in Education in Traditional Foods and Medicines.  Lesley University's Independent Study Degree Program.  2007
Ethnobotany and Ethnonutrition Certification Program.  Center for World Indigenous Studies.  2007
The Evergreen State College – Bachelor of Science – Ethnobotany & Pre-medicine, 2001
Apprenticeship with herbalist Joyce Netishen.  2004-2007
Apprenticeship with Skokomish Elder Bruce Miller.  1999-2005
Clinical Strategies and Herbal Therapeutics – 70-hour training in Western constitutional herbal medicine with Adam Seller.  2002
Advanced Herbal Studies with Cascade Anderson Geller. 1999
Apprenticeship in Belize with native healer Albert Jones and other Belizian healers.  1997
Southwest School of Botanical Studies.  Certified Clinical Herbalist.  1995
Published Works
Salish Bounty: Traditional Foods Exhibit at the Burke Museum of Natural History and Culture.  Contributed photos, audio interview, text and native food samples to exhibit showing from March – June, 2012.  Exhibit will travel to tribal museums.
Our Food, Our Right: Recipes for Food Justice.  Contributed writing and recipes to a book on building community food sovereignty.  Community Alliance for Global Justice, to be published summer, 2012.
Food Sovereignty on Tribal Lands .  Think Out Loud Radio Program: Oregon Public Broadcasting. Air date: November 1st, 2011.  Guest speaker on the revitalization of native foods systems in the Northwest.
Tribal College Journal .  Journal Publication: Volume 22 No. 3.  Spring 2011.  Food Sovereignty.  Native Nutrition: Northwest Indian Treatment Center Honors Culture to Heal the Mind.  Page 24
 Feeding the People, Feeding the Spirit: Revitalizing Northwest Indian Food culture.  Co-authored a book on restoring Puget Sound tribal food systems and creating a modern native foods diet.   Available in tribal communities through Northwest Indian College Cooperative Extension.  Gorham Printing, 2010

Wild Rose and Western Red Cedar: The Gifts of the Northwest Plants .  Wrote and published a book on Northwest plant traditions.  Available for tribal communities through Northwest Indian College Cooperative Extension.  Gorham Printing, 2007
Democracy and Education Journal.  Journal Publication:  Volume 17. March, 2008.  Indigenous Ways of Knowing.  Teaching in Indian Country: A Search for Real Learning.  Page 39
The Teachings of the Tree People.  Interview in a one-hour film on the life of tribal elder and Skokomish cultural leader Bruce Miller.  2006