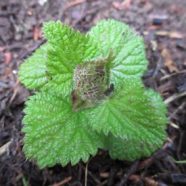 I could not contain my excitement this year as I spotted the first nettles emerging from the cold damp soil. They are deep green with reddish flames that blend in to the forest floor detritus. As my eyes soften and adapt to the terrain I begin to see them everywhere – tiny bodies reaching toward the light of a new season.
This year my hunger for nettles is acute. After having been sick for weeks with the sinus and lung crud, I need some lively plant medicine to help rebuild my strength. An Elder once told me that if you drink about 3 cups of nettle tea per day for two weeks it will change your blood chemistry. I believe it. Spinach is considered the most nutritious green on the market – but pales in comparison to nettles. Nettles are 29 times higher in calcium, 8 times higher in magnesium, 3 times higher in potassium, and almost double in their potassium content! Nettles are also exceptionally high in the trace minerals chromium, cobalt, zinc, and manganese. They are a super food and a potent medicine. Nettles support our liver and kidneys so they can flush waste products and function at an optimal level.
Here in Olympia we are in the height of nettle season. In some places, nettles are already 6 inches tall. Just yesterday I saw many nettles in a cool shady forested area that are just emerging from the ground and are not yet an inch tall. Don't wait too long if you want to harvest nettles for food– once we have a few warm spring days the nettles will shoot up and become more fibrous. For a full post on  nettles including harvesting ideas, medicinal uses, and recipes, click here.
Here are some additional recipes that I have been playing with this spring:
Nettle Filo Pie
This is similar to the Greek dish called spanakopita, which is made with spinach. It is surprisingly easy to make, yet makes you feel like an accomplished chef because it is so satisfying.
1 plastic grocery bag or 1/2 paper bag full of young nettles
1 tablespoon extra virgin olive oil
1 medium sized onion, diced
3 cloves garlic, minced
2 teaspoons lemon juice
salt and pepper to taste
3 tablespoons of melted butter
8 ounces feta cheese, fontina cheese, or jack cheese – crumbled or grated
6 sheets thawed frozen filo dough
Cook Nettles: Rinse nettles in a colander then cut the nettles into fine pieces with scissors. Preheat oven to 375. Heat a sauté pan at medium-high heat with olive oil, add onions, and sauté until the onions are translucent.  Add garlic and sauté for one minute. Add nettles and lemon juice.  Sauté until nettles are fully wilted – about 3-5 minutes. Remove from heat.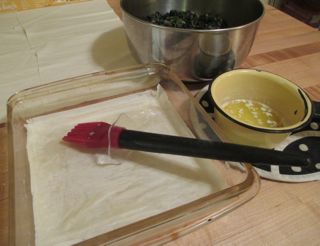 Layer filo dough: Melt butter then brush it onto the bottom of an 8 by 8 inch baking dish. Cut the filo dough into squares that will fit in the baking dish (this is easy to do with scissors.) Lay a filo sheet in the pan and lightly brush with butter. Continue until you have laid down 6 sheets. If you are using feta cheese mix it with the nettles, and then place evenly in the baking dish over the filo sheets. If you are using fontina or jack cheese, place the nettles down first then top with cheese. Continue layering and buttering the filo dough including the top sheet. Cut into nine pieces with a sharp knife.
Bake: Bake for about 45 minutes or until golden brown and deliciously crispy.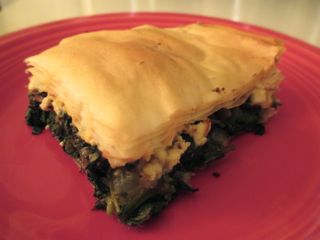 Cook time: 1 hour and 20 minutes
Serves: 4
Helpful hints:  This recipe is easy to modify. We have tried different cheeses, fresh herbs, and mixing nettles with chard, kale, or mustard greens. If the greens are too wet the filo on the bottom will not be crispy. Try spinning the nettles in a salad spinner or letting them dry longer in a colander.
Nettle, Sausage, and White Bean Soup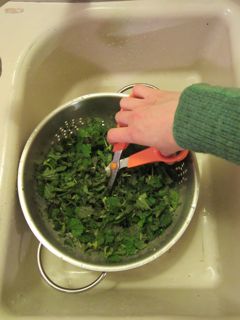 This recipe is modified from one that I learned from Winter Strong at Skokomish. It is one of the staple dishes at our home because it is fast, easy, and incredibly tasty, not to mention wildly nutritious.
2 tablespoons extra-virgin olive oil
1 small onion, diced
3-4 cloves of garlic, minced
2 links of sausage of your choice (1/2 of a package that is usually ? ounces)
3 tablespoons of rosemary, chopped
1 32 oz. box of low sodium chicken broth, vegetable broth, or water
1 small bag of spring nettles – washed and chopped with scissors
1 15 oz. can of butter beans, great Northern beans or cannellini beans
salt and pepper to taste
In a large soup pot heat olive oil over medium heat. Sauté onions until translucent, then add garlic, sausage and rosemary. Sauté until sausage is browned – about 5 minutes. Add broth and nettles, bring to a boil, then turn down heat and simmer for 10 minutes. Add white beans and salt and pepper to taste. We like to serve this soup with a little grated parmesan on top and garlic bread.
Cook time: 30 minutes
Serves: 4